Saturday at Tradewinds (My Main Birthday Celebration & Jammin' Jeff's)
Tradewinds Night Club, 5859 Allentown Way, Camp Springs, MD 20748
I did not try to bring a pen in and did not use my usual way of remembering (memorizing one set at a time), so this is really off the top of my head more so than usual.
Yvette, Rhonda, Janetta, Tracey G., Torrie, Stacey, Shaunte, Cindy, Nicole (trouble), Nicole (BF), Archie, Isha, Shawn, Ariel, Mia S., Keta, Muffin, Stacey, Sharmba Mitchell, Tamera, Angie W., RE Angie, Brenda, Rochelle, L-Boogie, Sam (Black Heart), Ty (Delano795), Donnell Jr., and Chappy were there.
Familiar Faces
Mike and Lorenzo were not present.
First set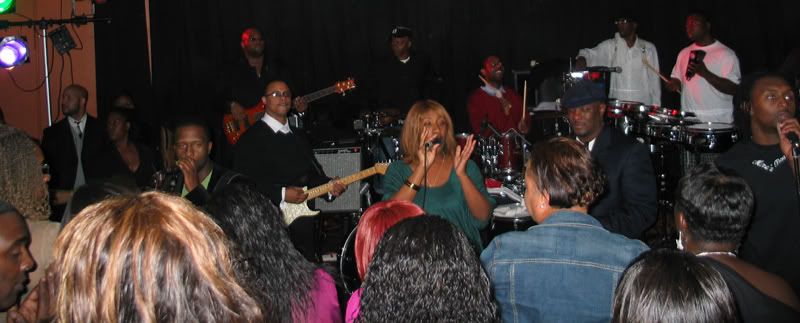 Nephew, Shawn, Scooby, Sean, Wendell, Godfather, Damila, Jammin' Jeff, Donnell, Packy, Bojack, Quese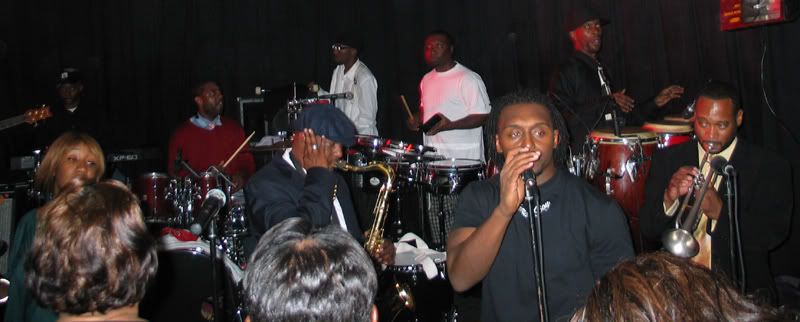 1) Damila-led Beyonce's Green Light? "give the green light" - it had a light crank, most of the band was strategically placed to one side of the stage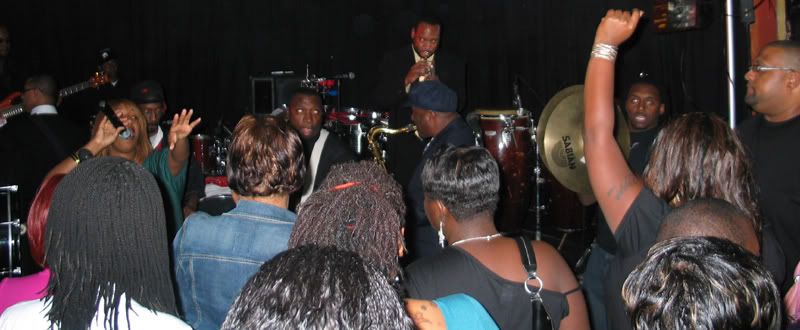 Wendell, Damila, Drunk, Bojack, DP, Donnell, Quese, Patrick
2) A recording was repeatedly played: a male voice saying, "Playing the drum is like making love" - girls (from the audience) played drums and percussion and marched down the left aisle to the front of the stage - at the front of the stage, I noticed Brenda and Archie among people playing percussion, being conducted by Jammin' Jeff, on the dance floor it was mostly women and they didn't dance at this point as they were so intent on watching what was going on onstage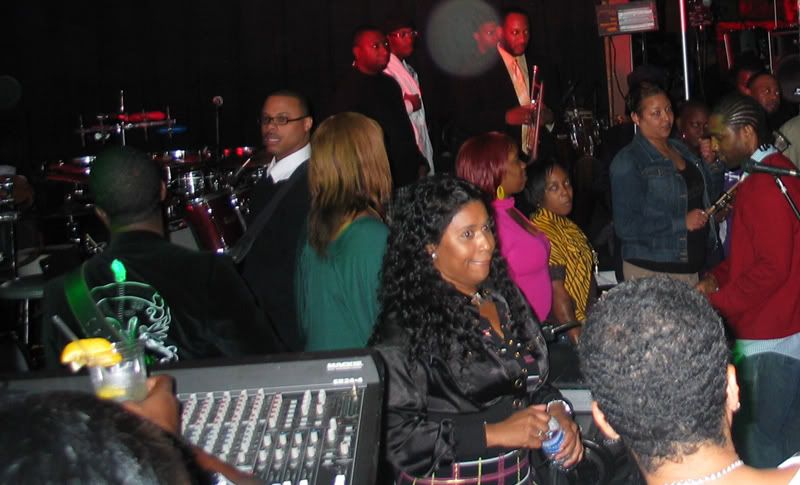 Scooby, Wendell, Damila, Bojack, Packy, Smoke, DP, Jammin' Jeff, Archie
3) Damila-led Anita Baker's Been So Long
4) Scooby-led ?
5) Donnell-led "Hey ay, Hey ay"
6) Scooby-led "Familiar Faces is for the Grown & Sexy"
7) Donnell-led "Jump your body" - it cranked
8) Donnell & Quese-led We Don't Need These Phones - it cranked
Second Set
1) Scooby-led Phil Collins' In the Air Tonight
2) Damila-led Rihanna's Take a Bow
3) Scooby-led Sunshine
4) Scooby-led The Dream's I Luv Your Girl
5) Donnell-led 50 Cent's In Da Club (tease)
6) Scooby-led "Uh oh uh uh oh" - it cranked
Shorty Dud, 32, and Blue Eye of Rare Essence were there.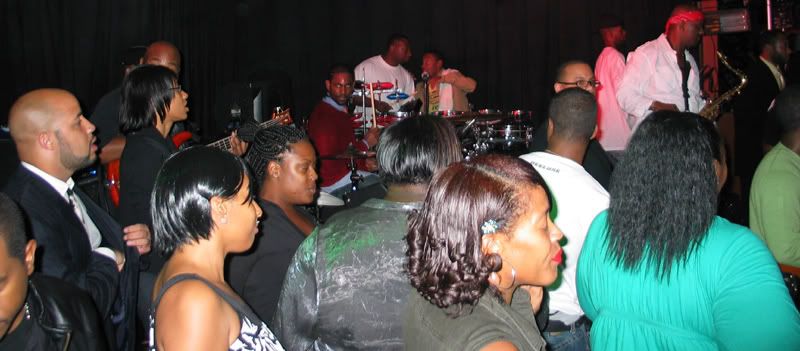 Nephew, Isha, Sean, Shawn, Jammin' Jeff, Bojack, Shorty Dud, Rochelle, Donnell Jr., Wendell, Smoke, Donnell, DP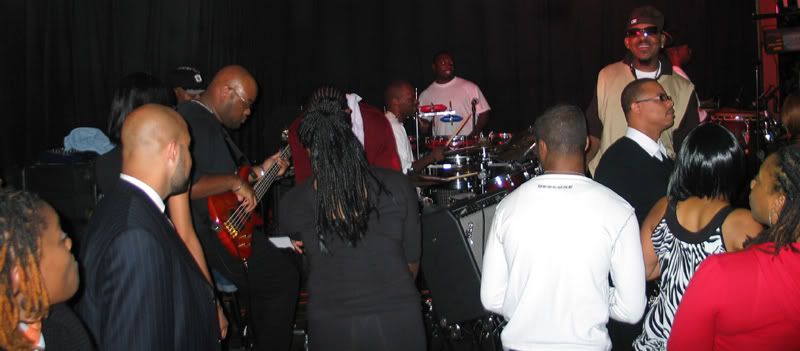 Angie W., Nephew, Sean, Jammin' Jeff, Blue Eye, Bojack, Donnell Jr., Wendell, 32
All pictures taken by and Copyright - Jordan Rich
7) 32-led Rare Essence's Body Snatchers (tease) - Blue Eye sat in on drums
8) 32 & Donnell-led Rare Essence's Geraldine - it cranked
Posted by funkmasterj at 12:01 AM EDT
Updated: Thursday, 25 December 2008 7:18 PM EST